As a leading UPS manufacturer and supplier, Kongu Engineers provide customers the high quality, reliability and value in each product. We manufacture and supply Line Interactive UPS systems from 500VA to 4KVA in single phase with input and output voltage 110 VAC or 220 VAC.
The Line interactive UPS backup power only switches on when the mains fails or fluctuates wildly outside the input voltage window of the built-in Automatic Voltage Stabilizer. An EMI filter will typically help to reduce spikes and electrical noise when mains is present. The line interactive uninterruptible power supply provides a clean and regulated output voltage. When the mains supply is within a specified input window the output from the Uninterruptible Power Supply is stabilized to within a specific voltage tolerance or window, this is achieved using Automatic voltage regulation techniques.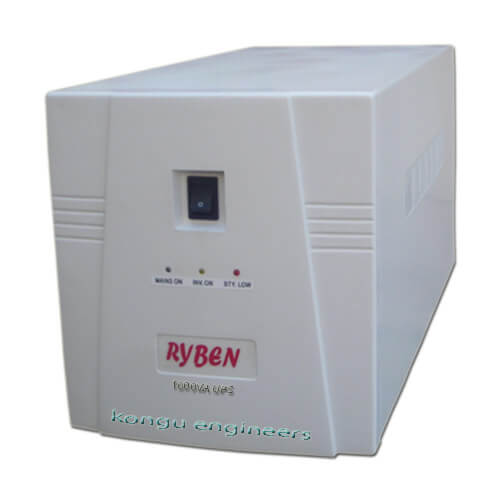 Our UPS designed specifically for India's harsh power conditions, Ryben LI-UPS state-of-the-art circuitry delivers backup power instantly, and also recharges your battery faster, so you get the longest possible battery life. Use our LI-UPS system and enjoy the security of uninterrupted power for your home or business.
Features
Extended Input Voltage Range
Built-in AVR
Smart Boost function for Low Input Voltage
Smart Buck function for High Input Voltage
Extended battery backup
Full time EMI / RFI suppression
Start up without Mains (Cold start)
Advanced battery management
Rugged design and engineering for continuous use
Negligible battery-water loss
Suitable for Lead acid conventional, maintenance free, deep cycle, VRLA Batteries
Pre-Audio alarm and Visual indication for Battery low
Battery Deep Discharge Protection
Ultra-Fast Short Circuit Protection
Multifunctional LED indicator and sound alarm
Intelligent thermal management
Easy maintenance
Generator compatible
Lower electricity consumption
Purer sine wave and Modified sine wave output
Easily Serviceable
Simple Control and Compact Size
User-Friendly
Various Capacities to suit individual's requirements
Technical specifications
INPUT
Voltage Range
155V - 300V AC
Phase
Single Phase
Frequency
50Hz +/- 2 Hz
OUTPUT
Voltage on Mains
200V - 240V AC
Voltage on Backup
230V +/- 5%
Frequency
50Hz +/- 2 Hz
Mains to Backup change over
Automatic
Backup to Mains changeover
Automatic
Output Waveform on Mains
Same as Input
Output Waveform on Backup
Pure Sine wave or Modified Sine wave up to the Models.
BATTERY
Battery type
Lead acid Flat plate, SMF or Tubular
Voltage
12V - 120V DC Depends upon Models
Current (Ah)
Depend upon Backup requirement
Charger Type
CCCV - Constant voltage and constant current
Charging Time
10-12 Hours (Depends battery Capacity)
Battery High Charging
Protected
Battery deep discharge
Protected 1.75V / cell
PROTECTIONS AND INDICATIONS
Visual Indications
Mains ON, Inverter ON, Battery LOW
Audible Alarms
Battery Low
Protections
Fuse, Input High and Low voltage, Battery High and Low voltage, Over Load and Short circuit
ENVIRONMENT
Operating temperature
0 deg. C to 55 deg. C
Humidity
Up to 95% RH ( non condensing )
Cooling
Natural / Forced air
Degree of protection
IP20 ( as per IEC144 )
Due to Continuous Product improvements, specifications are subject to change without notice.